Specification, Euroship Luxe Motor 1500AC.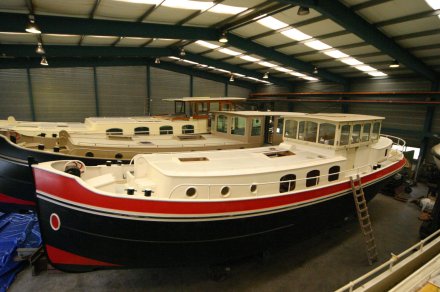 Aménagement à terminer mais prêt à naviguer.
Length over all: 14.95 mtr.
Beam over all: 3.90 mtr.
Draft: 0,95 mtr.
Airdraft wheehouse up: 2,90 mtr.
Airdraft wheelhouse down: 2,30 mtr.
Displacement: 28 ton.
Cruising speed: 9 knots
Hull:
All hull construction and decks 6mm.
Engine girders and top-plate 8mm.
Rubrail solid 150 x 15 mm with solid halfround of 40x20mm.
Deck finishing like rope boxes and bollard boxes 5mm.
Top structure finished with solid halfround of 40x20.
All plates and halfround's welded continuously double sided.
Painting:
All constructed of sandblasted marine grade A steel, with epoxy primer.
When finished welding all welds are brushed and rawly sanded.
All new epoxy high build primer inside and outside 150 Mu.
Outside hull two layers of epoxy bodycoat of each 120Mu.
Top structure all welds filled with epoxy filler finished as nice filets.
Top superstructure two layers of epoxy topcoat of each 120Mu.
All walkdecks finished with antiskid epoxy coat with contrasting colour
Technical fit out:
Main engine: John Deere 4045 - 85 Hp flexible mounted.
24 volt electrical system.
Starting batteries 24 volt 200Amp.
Fuel system with racor fuel filter en water separator.
Reverse gear:
PRM gearbox gear ratio 3 / 1
Water lubricated stainless steel shaft 50mm.
Thrust bearing and homokinetic shaft and 24"fourblade propeller.
Morse engine and gear controls.
Hydraulic system:
Heavy duty pump on the main engine power take off.
Tank en valve set complete with pressure filters.
Hydraulic bowthruster 15hp dual power, low/high power - on/off.
Hydraulic sternthruster 15 hp dual power, low/high power - on/off.
Hydraulic steering gear 2x 45gr with orbitrol power steering.
Extra valve on the tank for the connection of an autopilot.
All hydraulic gear connected with flexible connections.
Heating system
Kabola diesel fuel heating stove, engine room mounted.
Manifold in accommodation to connect heating radiators
Hot water tap connection for constant flow of hot water.
Exterior finishing:
New traditional anchor winch, traditional klip anchor and chain.
Double bollards on bollard boxes on fore ship and mid-aft walk around.
On the inside of the bulwarks small cleats for fenders.
Handrail all around with traditional ball finishing.
Navigation mast on the foredeck with toplight and anchor light.
Navigation lights starboard and portside.
Stern light, flagpole aft and forward.
Wheelhouse:
Aluminium wheelhouse with double glass, aluminium doors.
Electric / hydraulic automatic wheelhouse down.
Aft windows section to fold aft.
Forward window section to fold forward.
Roof and side windows to go automatic down.
Airdraft when wheelhouse down 2,35m.
Windows:
Aft accommodation four fixed windows with double glass.
Mid accommodation 4 fixed windows with double glass and
two half down opening windows with single glass.
Forward accommodation 6 steel portholes with brass inside cover.
Aft accommodation roof skylight box with double glass.
Forward accommodation roof 2 skylight boxes with double glass.
Insulation:
All outside exposed plate surface double insulated 50 mm stone wool,
Closed with 25 mm ductwrap stone wool with reinforced alu foil.
All insulation damptight taped with alu foil tape.
All bulkheads both sides insulated with insulation 40mm stone wool,
Closed with 25 mm ductwrap stone wool with reinforced alu foil.
Engine room insulated with 2x 40mm stone wool.
Closed with fire resistant cloth and perforated board.
Basic fit out:
Floors, 18mm top quality water resistant plywood.
Wall covering, 10mm top quality water resistant plywood.
Bulkheads double sided finished with water resistant plywood.
Ceilings, made fair and covered with water resistant plywood
All walls fair and seamless finished ready to be decorated.
Stairs to fore and aft accommodation, solid wood.
Cable trays, 4x50mm tubes each side, from engine room to fore ship.
The ship will be delivered, ready to sail, all filled up and started up, fuel tanks filled up.
Delivery in open water and handed over after a successful river trial.
Price for the above scope of supply, Euro 210.000(ex VAT) or Euro 249.900 (with VAT).
We can deliver vat free to a vat registered company.
Depending on personal requirements the vessel can be finished further to include generator, basic electric switchboard, furniture, decoration.
After a visit and a personal meeting we can a make pricing for your personal finishings.